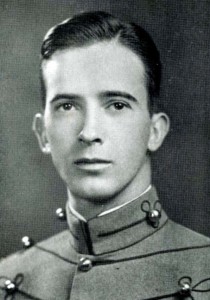 The Tumbelston family had a long association with PMC. Dr. Robert T. Tumbelston, '07 was a graduate and the President of the Alumni Association. His two sons followed in his footsteps and attended PMC. William "Blackie" Tumbelston started as a rook in the Prep School and rose to be Cadet Captain of B Company in his First Class (Senior) year. His classmates considered him to be one of the most accomplished members of the Class of 1937 and for his "fearless determination" and leadership abilities also admired him. After graduation, he joined a Marine reserve battalion in Philadelphia.
Tumbelston was the Executive Officer of the 1st Battalion of the 27th Marines when they landed on Iwo Jima. He assumed command when Lieutenant Colonel Justin Duryea was wounded while taking Hill 326A. After making a thorough Leader's Reconnaissance of the forward positions of the battalion, Tumbelston launched an attack on the heavily defended Japanese position that had halted the battalion's advance. Leading from the front, as he was taught at PMC, he was wounded. The bullet struck him in the left arm, but after receiving treatment and refusing evacuation, he returned to the front. After the battle, Tumbelston was evacuated. In the five days he commanded the battalion, the forward attacks destroyed Japanese opposition. For his actions he was awarded the Silver Star Medal.
The battle to secure Iwo Jima witnessed the toughest combat of World War II. The courage and heroism of the Marines, however, inspired a war-weary nation and helped to propel it to final victory.