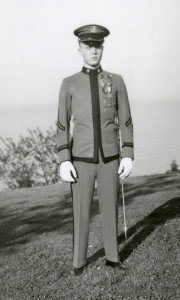 William John Wolfgram '43 was born in Wisconsin in 1922. He attended the local Shorewood schools and then graduated from Northwestern Military and Naval Academy (now St. John's Northwestern Military Academy). He excelled academically and enrolled at Harvard University. Wolfgram left Harvard and enrolled at Pennsylvania Military College as a Cadet during the second semester of the 1941-42 school year, in response to the outbreak of WWII. He continued his studies in engineering and earned a War Diploma in May, 1943. At graduation he received the Alumni Association Medal for maintaining the highest academic average.
After his commissioning as a 2nd Lt., Wolfgram was assigned to Company L of the 87th Infantry Regiment, which was part of the 10th Mountain Division (Alpine), at Camp Hale in Colorado. The Division's training at the 9,200-foot-high Camp Hale honed the skills of its soldiers to fight and survive under the most brutal mountain conditions. The men of the 87th experienced not only skiing, but snow-shoeing, snow fighting, and trail breaking on a toboggan. In January, 1945, the 87th left Newport News, VA for Italy, aboard the USS West Point. The division entered combat on January 28, 1945 in the North Apennine Mountains of Italy.
By early March, the 87th found itself racing along the German front line located along a ridge known as Mt. Della Vedetta. During an attack, the first platoon of Company L, under the command of Wolfgram, became pinned down by heavy machine gun fire from a farmhouse. Eventually, the platoon overcame the resistance and captured several prisoners. Wolfgram was awarded the Bronze Star "For heroic achievement in action." The Executive Officer, 1st Lt. Wilbur S. Sheets, and a friend of Wolfgram, described him as a "brilliant unit commander" and that his men had "nothing but admiration for him."
Company L captured Mt. Croce and on the morning of April 16th was ordered to continue the attack along the 4,000 yard Riva Ridge the morning of April 16th. As the platoon began its assault, it came under heavy fire and continuous mortar barrage. Wolfgram successfully had his men withdraw, only to once again encounter German machine gun fire. Wolfgram was seriously wounded and the platoon was cut down to nineteen men. Wolfgram died shortly thereafter.
Edith and Frank Wolfgram established a living memorial to their son Lt. William J. Wolfgram. He had been a lover of English books and his parents donated his personal collection the William J. Wolfgram English Reference Library or simply the Wolfgram Collection, to the planned Memorial Library erected in 1948. In addition, the center court of the library was dedicated to Wolfgram. The family continued their support and played an active role in building the current library, also named in his memory.