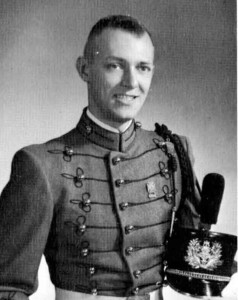 Walter Reasor attended the Perkiomen School and became interested in all things military. This brought him to PMC. As a talented drummer, he became an integral part of HQ Company (the PMC Marching and Concert Band), which was his first passion. Walt was the Tenor Drum Section Head of the PMC Band's Drum Line. In one traditional PMC Halloween (anything goes) Parade, Section Head Reasor had the Tenor Drummers wear tartan bathrobes (as makeshift kilts), Full Dress Alfa multi-brass-buttoned Cadet jackets, and Cadet overseas caps modified with Cadet neckties (as cap tails) as quasi-Pipe and Drum Band uniforms. He received high marks for his creativity that evening. Cadet Reasor met Elizabeth Carol Fry at a church social at the end of his 4th Class (Freshman year). From that meeting he became a member of the "Elizabeth Carol Fry Fraternity" and spent most of his time at PMC with her and, subsequently, twenty-five years of marriage. As a Cadet, the members of HQ Company considered him to be a man who took "Duty, Honor and Country" seriously.
After his graduation in 1964, LT Reasor joined the 197th Infantry Brigade and was then assigned to an experimental program where he did not go to basic training and was immediately assigned to the 3rd Armor Division in Germany. In 1967, he assumed command of F Company, an independent tank company. He converted this unit to H Troop, 17th Cavalry, which then was assigned to the 198th Infantry Brigade. The 198th Brigade was subsequently deployed to Vietnam and assigned to the Chu Lai area of operations. The AO was located 56 miles south of Da Nang. Its assignment was to conduct "Search and Destroy" missions. This was a region of dried open rice paddies and considered to be controlled by the Viet Cong. Specialist Michael George wrote that H Troop would rarely see the enemy, but knew they could be anywhere to ambush them.
On the evening of 26 May 1968, five armored assault vehicles of H Troop, 17th Cavalry, were bivouacked and arrayed in their night defensive perimeter. That evening, the Viet Cong began a rocket attack against the brigade and commenced a ground assault of H Troop. Captain Reasor's unit engaged the Viet Cong with automatic weapons fire. The Viet Cong then responded by attacking H Troop's night perimeter with small arms and anti-tank weapons. Almost immediately, one Troop vehicle exploded from a direct hit. Captain Reasor immediately left his Command vehicle and rushed to aid the wounded. He then climbed atop of crippled track, repaired a damaged 50-caliber machine gun and used it to return suppressing fire. Once the attack has been repelled and the wounded air lifted to safety, Captain Reasor organized H Troop into a blocking position. For his "Extraordinary Heroism in Close Combat against two Hostile Forces," Captain Reasor was awarded the Silver Star Medal.
Captain Reasor's final assignment was as an ROTC instructor at PMC in 1969. Although involved in student life, as the end of the Corps approached, he became disillusioned with changes in the school and resigned. In the early 1990's, he succumbed to a terrible disease that may have been caused by exposure to Agent Orange.