In 1902, Robert T. Tumbelson began his "rooky" year at PMC. Although he studied Civil Engineering, he was always fond of athletics and baseball. For five years he "showed great ability and was at once put into the catcher's box." In 1905, Tumbelston wore shin guards during the season and may be the first player to wear this type of equipment. They were originally football shin guards with the buckles at the side and made out of rattan and canvas.
Although catchers were expected to take their lumps without grumbling, shin guards were not part of the equipment catchers typically wore. At the time most catchers only wore a mask and had a glove designed merely to take the sting out of pitches. Baseball equipment, however, was quickly becoming a necessary part of the game. Catchers in particular sought to avoid injuries to their hands, face, head, chest and shins.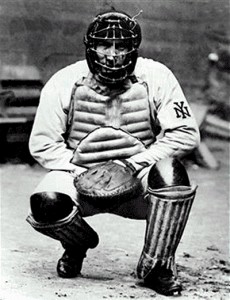 In April 1907, baseball's New York Giants opened the 1907 season against the Philadelphia Phillies at the Polo Grounds. Baseball Hall of Famer Roger Bresnahan played catcher and as he squatted behind the plate he drew the howls of spectators with his new look. His appearance looked more like a goaltender than a catcher in his pair of thickly upholstered shin guards, chest protector and mask.