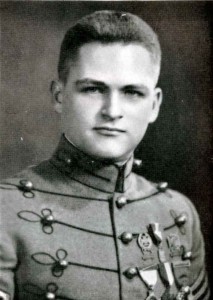 When "B" Company Commander Thomas Anderson graduated from PMC in 1942, he was considered to be a no nonsense Cadet and a "True Leader." He had a commanding voice, a squared-away military appearance and was an expert at handling those Cadets around him. During his four years, he was awarded the Dunlap Memorial Rifle Trophy and the Oliver Revolver Medal for his marksmanship. His amiable manner also kept him busy with several social pursuits, including the 3rd Class (Sophomore) and 2nd Class (Junior) Dance Committees and the Sabre and Sash (Yearbook).
Anderson was assigned to the 26th Infantry Regiment, nicknamed "The Blue Spaders", 1st Infantry Division. He focused on preparing for the amphibious invasion of North Africa. First Lieutenant Anderson and his unit landed on the beaches west of Oran, in northwest Africa. The inexperienced American troops encountered stubborn enemy resistance. Anderson's unit came under constant and effective machine-gun and small-arms fire. Anderson was awarded The Silver Star Medal for his leadership and bravery in leading his men to the successful completion of their mission.
Moving inland, the 1st Infantry Division took up defensive positions in the Kasserine Pass, a wide gap in the Atlas Mountains. Elements of Rommel's Afrika Korps launched a counter-attack against the 1st Infantry in order to regain control of Tunisia. During the German assault, Anderson led a machine gun squad in the destruction of a well-concealed sniper nest. For his outstanding leadership and tactical skill, Anderson was awarded The Oak Leaf Cluster to The Silver Star Medal (Second Award).
On D-Day, the 26th Regiment landed on Omaha Beach. After landing on "Fox Green Beach," Anderson, now a Captain and the Commanding Officer of A Company, 1st Battalion, 26th Infantry Regiment, was ordered to take the high ground west and southwest of the Port-en-Bessin, to include Mount Cauvin. Although little is recorded about this engagement, Anderson was awarded The 2nd Oak Leaf Cluster to The Silver Star Medal (Third Award).
During the Korean War, in late May 1951, the 7th Infantry Regiment launched a counter-attack to a Chinese advancement. The goal was to capture key hills and passes near Soksa-ri, Korea, and push the enemy back. During the siege, the 3rd Battalion became critically short of water, rations, and ammunition. Anderson responded to the regimental commander's request for supplies. Despite being under constant small arms fire from the Chinese and avoiding jagged mountaintops, he piloted an unarmed aircraft four times. Each time he accurately dropped the supplies the 3rd Battalion urgently needed. By the end of May, the enemy offensive had been crushed. Anderson was The 3rd Oak Leaf Cluster to The Silver Star Medal (Fourth Award) for his "Unwavering Gallantry."
Few men are awarded multiples of The Silver Star Medal, the Nation's Third-Highest Combat Award (Decoration) for Gallantry. Anderson was one of them.