John W. Simmons, '87, described Colonel Theodore Hyatt as "sincere and true. No one could know him well without loving him. He was sympathetic and charitable, and where he knew there was suffering and want, there his hand went out." It is no wonder that the PMC community searched to find a fitting memorial to this great man. Because of its importance to the study of Civil Engineering and his interest in astronomical studies, building an Observatory was chosen to honor the late Colonel Hyatt.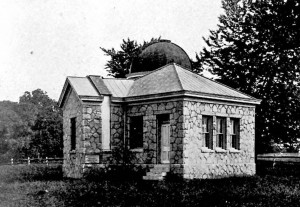 The building was designed and planned by Colonel Silas Comfort,'89, a Professor of Engineering and Vice-President at the school. His plan was not to build an ornamental monument, but one that would be of use students. The result was a tastefully designed gray stone building overlooking the athletic fields from the east and was on the most elevated spot to meet the needs of student astronomers.
Through the efforts of the Alumni Association, ex-cadets and friends of the school raised funds to equip the Observatory with astronomical instruments consisting of
a six-inch refracting telescope with position-micrometer, helioscope, and solar and spectroscope attachments, a transit, a chronograph, a sidereal clock, and all other appurtenances necessary to systematic and accurate work. The Observatory will be in telegraphic connection with other Observatories.
The Observatory was dedicated at the 1891 Commencement exercises.