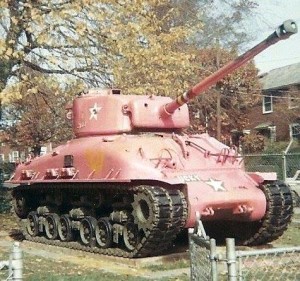 One of the cheekiest pranks in the history of PMC was the "Pink Tank Incident." Homecoming was always a grand celebration featuring a pajama parade, pep rally and bonfire and the colorful decorations in front of the dormitories. It was also a time when the exuberance of students was tolerated throughout the campus.
In October 1967, Homecoming Co-Chairman, Junior Class President and future PMC Student Government President Roy Eaton '69 imagined an exploit designed to unify PMC Cadets and Penn Morton students during the weekend celebration. With the support of student leaders and others, as well as the entire cheerleading squad and Band, Eaton organized the group as his diabolical plot was planned.
After the Friday night student mixer, the carefully recruited classmates "clad in fatigues with camouflaged faces were led in a commando style four-hour raid on three of the iconic landmarks on campus – including the most revered, the M4 A-1 Medium tank, located in front of the Hyatt Armory. To those Cadets who had chosen Armor as their service branch, the Sherman class tank, which was used in Europe during World War II, was a prized symbol. The next morning, a "Mickey Mouse face donned the steeple clock, the entire length of the stadium's white press box had been scrupulously candy stripped in the school's yellow and red colors," and the symbolic tank was fully covered in bright pink paint.
"As the cadets marched to breakfast, no one noticed the co-ed cheerleaders dressed in cadet uniforms who had been positioned in various companies throughout the Corps of Cadets." As the Corps entered the dining room, "the Cadets were startled to find that the commandos had totally disassembled the mess hall and void of all tables and chairs. Before the corps could regroup, the cheerleaders, having impersonating Cadets, emerged from the ranks of the Corps and discarded their cadet uniforms. They then joined the band to lead an impromptu but well-planned school-wide pep rally.