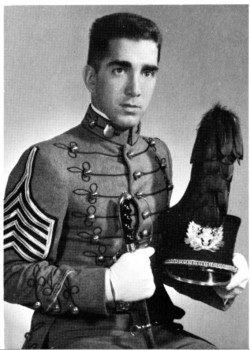 On the recommendation of a PMC alumnus, John Tilelli's family visited the college. Impressed by the "rigor, discipline of study and environment" of PMC, John Tilelli applied, was accepted and enrolled. His Rook year was difficult, but as he became acclimated to the procedures and the expectations of the academic work, he improved. As a cadet, John quickly became an outstanding example. With some luck and hard work he never walked a tour and graduated as a Distinguished Military Graduate. To this day he credits the Corps of Cadets, with its camaraderie and the leadership education, putting him on the path to success.
After graduation, he began a career in the Army in a variety of diverse and vital positions. First in Vietnam as a Company Commander in the 18th Engineer Brigade and as the District Senior Advisor to Team 84, Commanding General the 1st Cavalry Division during Operations Desert Shield and Desert Storm, and four times in Germany. Tilelli's staff assignments include the Pentagon, as the Assistant Deputy Chief of Staff for Operations and Plans, then as Deputy Chief of Staff for Operations and Plans and Vice Chief of Staff of the Army. He concluded his active duty career as Commander in Chief of the United Nations Command, Republic of Korea / U.S. Combined Forces / U.S. Forces Korea. Tilelli is a highly decorated officer, wearing the Combat Infantryman Badge and the Parachutist Badge along with decorations. He was the recipient of the Distinguished Service Medal (with three Oak Leaf Clusters), the Legion of Merit, the Bronze Star with "V" Device (with two Oak Leaf Clusters), the Defense Distinguished Service medal, the Meritorious Service Medal (with three Oak Leaf Clusters), the Air Medal, the Army Commendation Medal (with two Oak Leaf Clusters), and the Vietnamese Cross of Gallantry with Silver Star and Palm.
For more than 30 years, John Tilelli served his country in the armed forces with integrity and distinction. His combat leadership and management skills have made the U.S. Army an improved organization. This sentiment was echoed on the floor of the House of Representatives in 2000.
Listen to General John Tilelli Jr., USA (Ret) speak on Veterans Day at the Vietnam Memorial Wall. November 11, 2012. Click