Russ Freas came to PMC from Glen-Nor High School, in Glenolden, where he was described as one of the "pluckiest" football players of his time and he was selected to the All-Delaware County and Chester team. While playing football at PMC, he became an outstanding Guard. As a Cadet, he was described as having great energy and determination. After Commencement, he joined the Army and was eventually assigned to the 423rd Infantry Regiment.
A week before the start of the Battle of the Bulge, the 106th Infantry Division was sent in to relieve the 2nd Infantry Division near Schonberg, Germany. The Germans began their assault at dawn on December 16th and the 106th stared directly down the barrels of the Second SS Panzer Division.
The German attack on the town of Bleialf that morning gave the Germans control of the lower two thirds of the town. The arrival of more than two hundred reinforcements, including the Service Company, which had been re-organized as a rifle company and commanded by Freas, halted the German advance. These reinforcements were then ordered to counterattack. Freas personally led his men into many of the town's buildings. He was credited with personally capturing numerous German prisoners. By mid-afternoon, Freas and the other reinforcements had reoccupied the entire town, except for the houses around the train station.
After three days of arduous combat, two regiments of the 106th Division, the 422nd and the 423rd, were surrounded. While both regiments continued to fight, supplies of ammunition and food ran low. On December 18, the regiments counter-attached in hopes of breaking through the German lines. This bold action was blocked by the sheer weight of German numbers. Both regiments surrendered.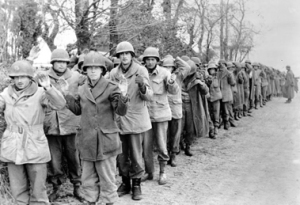 The Germans marched 985 captured men of the 106th for four days until they reached Stalag XIIA near Limburg, Germany. The Americans never entered the camp, but were packed into boxcars, 60 men to a boxcar, and transported to Stalag 9-B, considered to be one of the worst POW camps in Germany. During the trip to Stalag 9-B, eight men attempted to escape and were killed by an exploding land mine. The German sergeant-in-charge was enraged and began shooting. Although the sergeant knew that every boxcar was densely packed, he fired a round through the door of a car, killing an American soldier.
In 1946, Freas was posthumously awarded the Silver Star Medal for his gallantry.