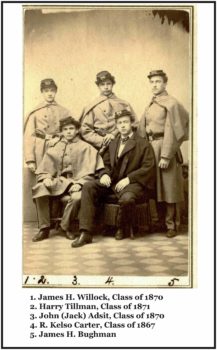 Russell Kelso Carter, born in 1849, was in Pennsylvania Military Academy's first graduating class in 1867 and was awarded a degree in civil engineering. In a long and varied career, Carter was an ordained Methodist minister, practicing physician and prolific author.
He also was the first president of the college alumni association. Widener University's R. Kelso Carter Award–given each year to a U.S. citizen (other than a graduate of PMC or Widener) who "in the opinion of the Alumni Association, has through acts and accomplishments brought honor to the college" — is named in his honor.
As a student, Carter was a star athlete-said to be "one of the cleverest of the early pitchers" on the school's first baseball team (formed in 1866) and an expert gymnast excelling in routines with a pair of 20-pound Indian clubs.
After graduation, he remained at PMA as a mathematics instructor and later also taught military tactics, chemistry and natural and experimental philosophy. In 1872, he was the college adjutant.
After the 1873 commencement exercises, graduates met at the Continental Hotel in Philadelphia to form an alumni association so that "the friendships of former years might be preserved, the more agreeable memories cherished, and a spirit of union and good fellowship fostered." Captain Carter, as he was known, was elected its first president.
Ill health forced him to move to California for three years, but he returned in 1876 to resume duties as professor of mathematics and tactics instructor.
In 1881, after the retirement of Col. George Patton, who organized PMA's engineering program in 1864, Carter was made Professor of Engineering. He immediately set out to improve the civil engineering program and introduced practical aspects to the program, new textbooks for mathematics and expanded the survey program. But in the summer of 1887, he again became ill and was forced to resign from the faculty of PMA. He moved to New Jersey to recover.
Faced with recurring health issues, Carter, who grew up in a religious home, explored faith healing and in 1887 was given a license to preach as a Methodist minister and garnered a reputation as a prominent evangelist. In the late 1800s and early 1900s, he wrote numerous books about faith healing, Christianity and science and at least four novels. He also wrote the words and music to scores of hymns, including "Standing on the Promises," which was contained in the 1885 hymnal, Songs of Perfect Love, edited PMA music professor John R. Sweeny.
During the summer of 1892 Carter returned to California while his family remained in Maryland. A short time later, he filed for divorce from his wife. After successful medical treatment of tuberculosis ("consumption"), he distanced himself from faith healing, returned to Baltimore, studied medicine and became a physician. He practiced in the Baltimore area until his death in 1928. His obituary noted that he had been the last surviving alumnus of PMA.
The hymn, is still sung, as you can hear in this modern rendition: