Wilfred "Casey" Farrell was a member of the basketball team and a determined student while attending PMPS (1932-35). He graduated from PMC in 1939. Best known for his unselfishness, leadership, and carefree outlook, he was a standout during his seven years as a resident of Old Main. After graduation, Farrell entered the Army and was assigned to the 26th Infantry Regiment, nicknamed the Blue Spaders. The 26th was a part of the 2nd Infantry Brigade of the First Infantry Division.
In 1942, the 26th Infantry led America's first amphibious assault in North Africa near Oran in Algeria. In January 1943, Harold Boyle, a renowned war correspondent traveling with the Army, wrote that, in a pre-dawn assault, the Americans charged up a slippery slope of 1,000 feet with fixed bayonets and seized the heights. Farrell led his unit, a heavy weapons company, in advance of this attack. In February, in an effort to locate machine gun nests that had kept his unit pinned down on a hillside, he and another officer voluntarily went beyond their own lines. Many Americans, including Farrell, were subsequently cut off and taken prisoner when the Germans launched a counter attack. For his gallantry in action during the battle, Farrell was awarded the Silver Star Medal, which was presented, to his father at Fort DuPont.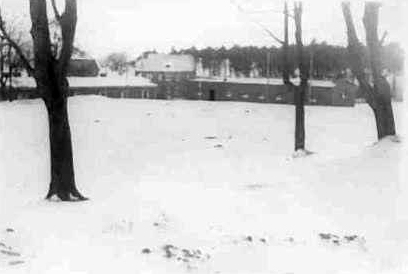 According to Farrell, he was first taken to Tunis and then to a camp in Naples, Italy. Two weeks later, Farrell was moved to a camp in Austria. After three months in Austrian camp, he was shipped to Oflag (Offizierslager) 64, a prisoner of war camp for American officers in Poland. The camp was built around a Polish boys' school in Szubin to detain the 150 officers captured in the North Africa Campaign. As the war continued, the size of the camp rose to 1,471 men. The "Kriegies" (short for Kriegsgefangenen: prisoners of war) made the best of their situation by organizing sports events, musical and theatrical performances and escape plans. Farrell wrote to his parents that he was studying French and German as well as reading some good books. In January 1945, the Russians liberated the camp and Farrell was returned to the United States. It was reported in the PMC News (June, 1945) that Farrell felt the Polish people "treated us wonderfully" and were of great assistance once the prisoners were liberated.