When World War I broke out, Edmund "Ned" Cook, ex-cadet, Class of 1906, felt it was his patriotic duty to fight for the Allies. He traveled to England and enlisted. He became a member of the 4th Battalion of the British Grenadier Guards, the oldest and most famed infantry regiment in England.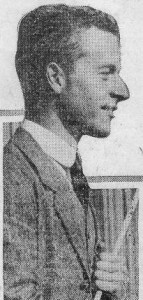 The regiment was in France and a major part of the Allies offensive in 1917. Ordered to attack just before dawn on August 10, Cook went "over the top" dodging from shell hole to shell hole. German machine guns fired an unrelenting barrage on them on the Grenadiers. "Ned" Cook was struck and went down, wounded in the abdomen and legs. Refusing care during the attack, Cook told his comrades to "carry on, you fellows."
Stretcher-bearers following the attack picked up the injured man who had refused the aid of his brother Grenadiers. They carried him to the rear where he died a few days later at Casualty Clearing Station Number 62.
"Ned" Cook was the first PMC casualty of the war. Sometime later, his wife wrote to Colonel Hyatt that Cook was an honor to PMC's "teachings and guidance and you may be proud of your good soldier."