In 1965, the Department of the Army designed a new emblem for Pennsylvania Military College. Below is an explanation of its symbolism.
The shield consists of an armored horse's head set against a background of red, yellow, and white which are the colors of the Corps of Cadets. The horse's head refers to the introduction of military instruction to the college and also to the horses supporting the arms of the State of Pennsylvania. The three white roundels (circles) are a part of the arms of William Penn.
The indented partition line marks the P,M,C,'s three changes of location beginning with the transfer from the State of Delaware in 1862.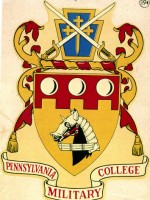 The crest consists of a wreath upon which is set a keystone with a gold cross crosslet, referring to the arms of Lord De La Warr, namesake of the State of Delaware where the college had its earliest beginnings. Two crossed Civil War officers' swords, one Union and one Confederate, overlap the crest. They denote the outbreak of the Civil War and the resultant move to Pennsylvania where the college was incorporated under an act of the State Legislature as a military university.
At the bottom of the emblem is a scroll with the inscription Virtue, Liberty, and Independence in red letters symbolizing the ideals and goals of Pennsylvania Military College.