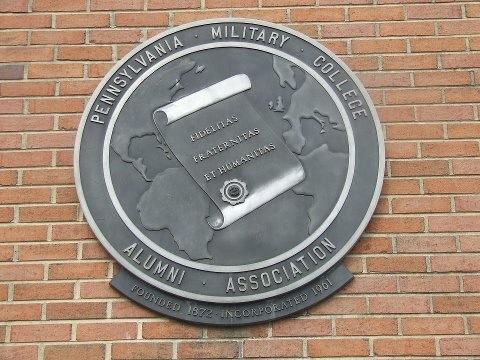 After the 1873 Commencement Exercises, the 24 graduates met and expressed their desire to form an association so that "the friendships of former years might be preserved, the more agreeable memories cherished and a spirit of union and good fellowship fostered." Captain R. Kelso Carter, '67, became president and Colonel Charles E. Hyatt, '72, secretary.
According to the constitution of the Association, every graduate automatically became a member. Any person, who had been a student of the College for one year, having left in good standing, may upon written application, endorsed by two graduates, become an associate member. In addition, individuals who have given of their time and lent their best efforts to the success of the Association were welcomed as associate members.
In April 1891, the Pennsylvania Military Academy Alumni Association was incorporated. In 1892, the name was changed to Pennsylvania Military College Alumni Association. In 1961, the purpose of the Association was restated as "to further acquaintance and good fellowship among PMC Alumni and students, and to otherwise promote the best interests of the College.
Later that year, the Association adopted its own seal, a globe with a diploma imprinted upon it. Upon the diploma is inscribed the words "Fidelitas, Fratenitas, et Humanities."
Year

Name

Graduation Year

1873

R. Kelso Carter

1867

1874

Henry C. Bughman

1868

1875

George B. Berger

1869

1876

James H. Willock

1870

1877

John R. Rutter

1869

1878

R. Kelso Carter

1867

1879

R. Kelso Carter

1867

1880

William J. Leiper

1871

1881

Henry D. Thomason

1879

1882

Frank Holland

1875

1883

William J. Boning

1875

1884

Lowrie C. Barton

1877

1885

George Whitelock

1872

1886

George A. Starkweather

1873

1887

George B. Sterling

1877

1888

John W. Simmons

1887

1889

Lowrie C. Barton

1877

Eastern Alumni Association

William L. Cosgrove

1877

Western Alumni Association

1890

William J. Boning

1875

Eastern Alumni Association

William L. Cosgrove

1877

Western Alumni Association

1891

William S. Blakeley

1872

Eastern Alumni Association

Frederick H. Gould

1876

Western Alumni Association

1892

William S. Blakeley

1872

Eastern Alumni Association

Rukard Hurd

1878

Western Alumni Association

1893

John C. Jones

1886

Eastern Alumni Association

Rukard Hurd

1878

Western Alumni Association

1894

Dr. Clayton S. Schwenk

1879

Eastern Alumni Association

Rukard Hurd

1878

Western Alumni Association

1895

Dr. Clayton S. Schwenk

1879

Eastern Alumni Association

Rukard Hurd

1878

Western Alumni Association

1896

John W. Loveland

1887

Eastern Alumni Association

Harry D. Thomason

1879

Western Alumni Association

1897

John W. Loveland

1887

Eastern Alumni Association

Harry D. Thomason

1879

Western Alumni Association

1898

John W. Loveland

1887

Eastern Alumni Association

Myron F. Parde

1879

Western Alumni Association

1899

John W. Loveland

1887

Eastern Alumni Association

George M. Studebaker

1885

Western Alumni Association

1900

John W. Loveland

1887

Eastern Alumni Association

George M. Studebaker

1885

Western Alumni Association

1901

John W. Loveland

1887

Eastern Alumni Association

George M. Studebaker

1885

Western Alumni Association

1902

John W. Loveland

1887

Eastern Alumni Association

Rukard Hurd

1878

Western Alumni Association

1903

John W. Loveland

1887

Eastern Alumni Association

Rukard Hurd

1878

Western Alumni Association

1904

Union of Eastern & Western Associations

1904

John W. Loveland

1887

1905

John W. Loveland

1887

1906

John W. Loveland

1887

1907

John W. Loveland

1887

1908

John W. Simmons

1887

1909

John W. Simmons

1887

1910

Harold DeLancey Downs

1897

1911

Harold DeLancey Downs

1897

1912

Harold DeLancey Downs

1897

1913

Harold DeLancey Downs

1897

1914

Fred N. Whitley, Jr.

1901

1915

Fred N. Whitley, Jr.

1901

1916

Fred N. Whitley, Jr.

1901

1917

Fred N. Whitley, Jr.

1901

1918

Fred N. Whitley, Jr.

1901

1919

John W. Loveland

1887

1920

John W. Loveland

1887

1921

John W. Loveland

1887

1922

John W. Loveland

1887

1923

John W. Loveland

1887

1924

John W. Loveland

1887

1925

George T. Cann

1886

1926

George T. Cann

1886

1927

C.E Myers

1909

1928

C.E Myers

1909

1929

C.E Myers

1909

1930

C.E Myers

1909

1931

Harry A. Poth

1902

DOD 11/16/1931

L.C. Holston

1896

Acting

1932

Jas A. G. Campbell, Jr.

1920

1933

Jas A. G. Campbell, Jr.

1920

1934

Jas A. G. Campbell, Jr.

1920

1935

Edgar L. Best

1903

1936

Edgar L. Best

1903

1937

J. Wilson Stoever

1914

DOD 8/1937

Lawrence B. Redmond

1932

Acting

1938

Lawrence B. Redmond

1932

1939

Thomas E. Leet

1917

1940

Thomas E. Leet

1917

1941

Carl A. Schaubel

1930

1942

Carl A. Schaubel

1930

1943

R. Kelso Hanna

1930

1944

R. Kelso Hanna

1930

1945

Robert T. Tumbelson

1907

1946

Robert T. Tumbelson

1907

1947

Robert T. Tumbelson

1907

1948

Robert T. Tumbelson

1907

1949

Sherwyn L. Davis

1926

1950

Sherwyn L. Davis

1926

1951

Weston C. Overholt

1927

1952

Edgar L. Hires

1934

1953

Edgar L. Hires

1934

1954

Edward C. Fay, Jr.

1936

1955

Edward C. Fay, Jr.

1936

1956

Stuart H. Raub

1930

1957

Stuart H. Raub

1930

1958

Jesse W. Roberts, Jr.

1936

1959

Jesse W. Roberts, Jr.

1936

1960

Albert Frank, Jr.

1949

1961

Charles D. Hummer

1927

1962

Charles D. Hummer

1927

1963

George E. Burke

1935

1964

George E. Burke

1935

1965

Oliver C. Armitage

1949

1966

Oliver C. Armitage

1949

1967

William H. Turner

1937

1968

William H. Turner

1937

1969

William T. Burton

1931

1970

William T. Burton

1931

1971

Sidney S. Mathues

1951

1972

Sidney S. Mathues

1951