In 1965, Cadet Bill Symolon, Noel Koch and Pat Brennan organized a charity drive to care for Vietnam orphans in the province of Binh Dinh. At a time when there was national disagreement about Vietnam, these students saw their efforts as "An opportunity to provide substantive evidence to the Vietnamese people that we are' concerned with their welfare … that we see them as something more than pawns in an international chess game. "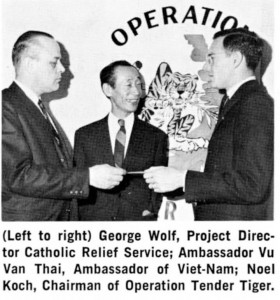 The original goal was to raise $5,000 through a variety of campus fund-raisers. The support for Operation Tender Tigers grew quickly. Besides organizing an auction featuring many PMC's notables, buttons were sold; a folk festival and dances were organized and community groups also stepped forward. Garnet Valley High School in Glen Mills sent 75 dollars. The effort was also recognized and commended by Pennsylvania Governor William Scranton. Soon support for Operation Tender Tiger was on the campuses of Delaware, West Chester and Villanova.
Operation Tender Tiger came to a successful end in May 1966. The student organizing committee presented a check for $5,500 to the Catholic Relief Services. Vu Vn Thai, ambassador of Vietnam, was the guest of honor at the presentation. The money raised was intended for the construction of an orphanage in the city of Qui Nhon. Plans called for the Orphanage of The Tender Tiger to accommodate 450 war orphans in two dormitories. In addition, there was to be a five-classroom school, a dining hall and two administrative buildings.