Since the beginning of PMC, athletics was an important part in the development of leadership. PMC athletic teams often attracted a national audience. Attendance at football games swelled to thousands of spectators, while at some of the outdoor polo games the attendance was even larger. In addition, the Corps continued to use the fields as a parade ground and commencement exercises often attracted many thousands. It quickly became apparent that the grass stands were not sufficient.
In the spring of 1926, the Athletic Council of PMC announced plans to build a concrete stadium along with new athletic fields. The stadium was to be 300 feet long and will have a seating capacity of 4,000 persons. A glass-enclosed press box, which contained a telegraph and telephone, accommodated reporters. Underneath there were locker rooms, various storerooms for military equipment and a rifle range.
The new athletic fields were to have two levels. The upper level was approximately 700 feet in length and 400 feet in width. After a drop of about ten feet, the lower fields were to contain practice fields and a baseball diamond.
The Stadium Campaign Committee, led by Frank G. Sweney '76, son of Dr. John R. Sweney the music director at PMC, immediately set out to raise the $100,000 needed for the stadium. The Committee reached out to graduates, ex-cadets, students, friends of the school and the citizens of Chester and Philadelphia interested in athletics. Each person was asked to purchase a $200 lifetime membership in the PMC Athletic Association. This membership offered free admission to all Athletic Association events at the stadium. In addition, each year twenty-five percent of the gross receipts of the Athletic Association would be distributed equally among the members until the $200 fee was paid back.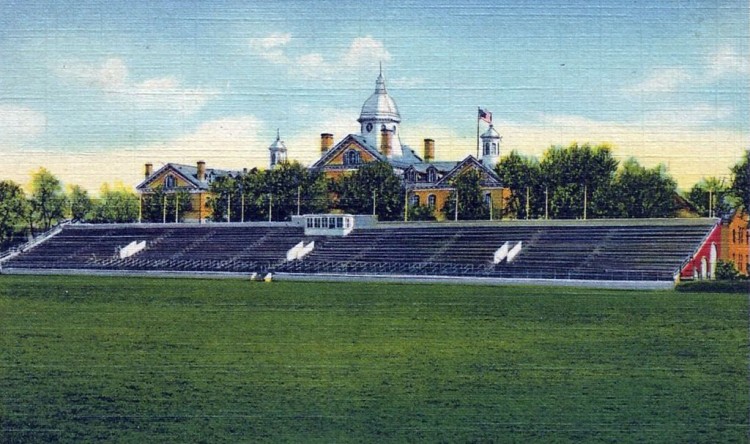 Work began on June 18, 1926, and progressed quickly until the middle of the summer. For some time a rainy spell greatly slowed the work and the fields turned into "seas of mud." Work continued and the first football game played at the new stadium was against Washington College. To commemorate the first game, Secretary of War Dwight L. Davis arranged for a football to be dropped on the gridiron from a Navy plane just before the kickoff. The final score was PMC 12 Washington College 3.
The stadium was dedicated on November 13. General Hyatt said: "I have been waiting sixty years for this development-a development that will mean much to the young men of this institution. This fine new stadium offers all of the modern facilities for the carrying on of clean sports."
The character of the games played by PMC was portrayed by the motto engraved at the entrance of the stands – Dedicated to Youth.