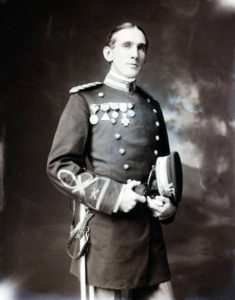 Irving J. Carr was born in Chippewa Falls, Wisconsin, in 1875. After attending the public schools, he enrolled at Pennsylvania Military College. While at PMC he played baseball, was awarded the Marksmanship Medal and was an exceptional student.
Carr graduated from PMC with a degree in Civil Engineering and began his Army career. He served as an infantry lieutenant in the 17th Infantry during the Philippine insurrection. During his time in the Philippines, he participated in several battles and engagements against the insurgents at Magalang on the island of Luzon. He was awarded the Silver Star for his gallantry. Carr graduated from the U.S. Army Signal School at Fort Myer in 1908. In 1914, he was assigned to the 2nd Division, IV Corps and Third Army in France as a signal officer. During the Spring Offensive of 1918, Carr participated in the attacks at Aisne-Marne and St. Mihiel and in the Somme-Dieu defensive. During the 1920s, he graduated from the General Staff School and the Army War College. After the war, he served as signal officer of the Western Department and as chief of staff of the Hawaiian Division.
In 1930, Carr was appointed Chief Signal Officer. He took charge of the U.S. Army Signal Corps as the nation plunged into the Great Depression and military preparedness was less important. At the time, Carr commanded a very small Corps, consisting of approximately 270 officers and 2,500 enlisted men. During his command, the Corps introduced the use of the typewriter, FM radio and walkie-talkies were all introduced. By 1934, The Corps provided the Army with the most comprehensive radio net in the world. Message traffic averaged almost 82 million messages per year from 1931 to 1934.
Carr retired from the Army in 1934 and settled in St. Petersburg, Florida. After a long illness, he died on June 12, 1963. He is buried in Arlington National Cemetery.