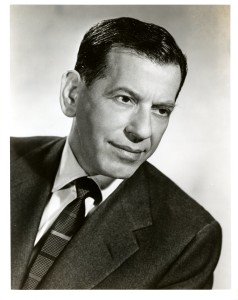 Emanuel (Manie, pronounced "Manny") Sacks was a life long supporter and friend of PMC. His association with the school began in the 1918, when he enrolled in the Pennsylvania Military Preparatory School (PMPS). In 1920, he became a Cadet at PMC, Class of 1924. While at PMC he played football and became friendly with Hugh McCaffery '24. He left PMC and began working at WCAU in Philadelphia. An avid supporter of PMC football, he arranged for WCAU to broadcast some PMC football games and military exercises. In June of 1955, this giant of the entertainment industry became a member of the PMC Board of Trustees. He had always taken an active interest in the school and its activities and this continued.
During his career at Columbia Records, RCA Victor and NBC Sacks gave encouragement and confidence to many artists. Although he kept out of the public eye, he worked closely with Jack Benny, George Burns, Edgar Bergen, Harry James, Dinah Shore and many others. In 1942, Sacks helped Frank Sinatra start his solo career. An appreciative Sinatra said during a 1959 CBS television tribute to Sacks that "There's a little bit of Manie in everything good that has ever happened to me … Whenever I was in trouble and needed help, I yelled for Manie." Despite Sacks' reputation for his warm and charming personality, he was a tough bargainer according to RCA President David Sarnoff.
Sacks learned that he had leukemia when he was 52 years old, but only told his family and Sinatra. Upon learning of Sacks death, then Vice-President Moll, stated, "The College was deeply shocked to learn about his death, expressed the sentiments of the entire faculty, administration and student body of PMC. Manie Sacks, had made his mark in life as a top figure in the entertainment world, and we are going to miss a very influential friend."
Watch Part 1 of Some of Manie's Friends, a TV special which was broadcast in 1959. Perry Como, Dinah Shore, Eddie Fisher, Jane Wyman, Frank Sinatra and others are featured in the show.