Beginning in 1958, Cadets often found the Memorial Library to provide them with the necessary resources as well as comfortable surroundings for their studies. Over the fireplace in the Reference Room hung a large mural, 11 feet in height and 7 feet in width that after four years of study became almost invisible.
Hung in the library in 1959, the mural is a montage of life at PMC. The focal point of the picture is the likeness of Major General Edward E. MacMorland, then the president of the college, surrounded by cadets. These cadets were enrolled at PMC at the time and posed for the painting. An art student is also visible painting a picture of Frank K. Hyatt, who passed away shortly before the mural was started. Besides academics and the activities of the Corps, three football players are depicted, with the number 56 clearly visible on one player. Football fans will recall that this is the number of Herm Sweeney, one of PMC's greatest players.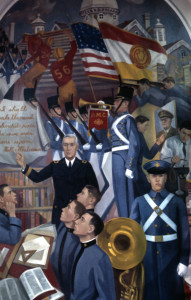 The mural was the work of Carl Lindborg, a prominent local artist and art instructor at Pennsylvania Military Preparatory School and later the Evening Division at the college. Born in Philadelphia, Lindborg began his studies at the Pennsylvania Academy of the Fine Arts. He continued his studies in Paris at the Academie Julian and with Andre Lhote, a renowned modernist painter. He began to exhibit extensively at the Salons of America, the Corcoran Gallery Biennials, the Philadelphia Museum of Art, and the Pennsylvania Academy of the Fine Arts, the Whitney Museum of American Art, the Philadelphia Art Alliance, the Philadelphia Art Club and the Butler Institute of American Art in Ohio.
The mural is more than just a painting of the activities at PMC. In many ways it illustrates the legacy of PMC: individual education, character building and military training.