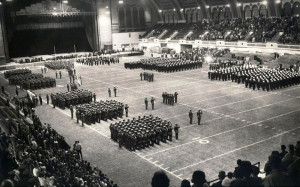 The PMC – Merchant Marine Academy football game was billed as "The Little Army – Navy game," held each year at the Boardwalk Bowl in Atlantic City, N.J. Stealing the Kings Point Victory Bell was our version of West Point stealing the Navy goat from Annapolis. We inherited the idea from the class of '63 when Jack Geoghegan, the Cadet 1st Captain, led an expedition of his classmates to try, but failed, with disastrous consequences for him. We heard about that story as Rooks and it stayed with us for the next four years. No class in between attempted the stunt again. The Class of '63 were great mentors, having many characters who inspired us to become "the best class" at PMC, and so it was only natural that we would one day attempt to get that bell.

Early in the Fall of our senior year, Andy Patten took a trip with his parents and sister to visit Kings Point. Posing in civilian clothes as a prospective midshipman, Andy made a reconnaissance of the campus, taking photos of the bell and surrounding location. When he returned to campus, he had a meeting with Glenn Dennis and Bill Symolon to discuss a plan. One of the main points noted was when Jack Geoghegan made his run on Kings Point he took along a large contingent of classmates; something like 15 or 20. We knew that was just too many bodies with too much chance for discovery. We settled on a raid mission with a very small force. Bill's Marine Corps training told him a fire team of 4 would be the right size force to pull this off. We quickly agreed and then had to pick the team.
Since Bill was the Cadet 1st Captain of our class, we all knew that he would have to be in this party to take up where Jack had left off. Andy, having made the reconnaissance and given us the basics of the plan, was a solid 2nd member. Glenn Dennis clearly wanted to be in, but, showing the maturity of a good ROTC student who had absorbed the leadership lessons of instructors like Ranger Captain Doug Detlie, realized that the CO and XO of a unit should never be on a mission together. He reluctantly agreed to stay behind. Who would be the other two members? We felt the team had to have the Army Ranger-type personalities, so Mike Stalkus, with his prior Army experience, immediately came to mind. He quickly signed up. Finally, the 4th member came looking for us. Somehow, word of this plan had leaked out even though we tried to keep it close-hold so no one in school administration might stop it before it began. Tom Keller came to us one night and just about begged to be in the Bell Force. With his high enthusiasm, he became number 4. Truth be told, the Class of '66 was chock-full of cadets who could have easily joined the team.
Next decision point was when to conduct the raid. We chose the night of the Kings Point – Coast Guard Academy game, knowing the campus would be nearly deserted. Camouflaged and armed with the necessary tools to dismantle the bell based on Andy's detailed recon, our team made it to the objective undetected. The bell was separated from its moorings and man-handled back to the getaway vehicle, which was Andy Patten's VW bug. It was a near flawless operation with the only misstep being an inadvertent clanging of the bell one time, but not enough to draw attention. On the way back, we were stopped by a police officer for a reason lost to memory. But, thanks to some quick thinking and fast talking by Andy, who was driving, the good cop let us go. And we made it safely back to campus.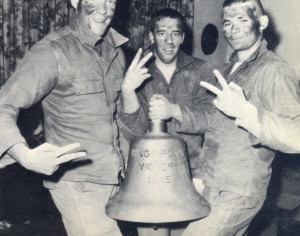 First thing Monday morning, Bill Symolon told Col Menard, our Commandant, about the caper. His reaction was to give a sly smile and say, "Oh Dear…. how will we get it back to them?" Our group already had that plan, which was to happen at half time of our game when we would march out to mid field and deliver it to Kings Point, under the cheers of our admiring classmates. Col Menard's reaction to that idea was, once again, to say, "Oh Dear, we can't do that." So, his judgment prevailed and he arranged with the Commandant of Midshipmen at Kings Point to receive the bell at half time, but quietly behind the stadium…deftly avoiding a potential mini riot on the football field.
This escapade could never have succeeded without a grand plan well executed and an equal measure of good luck. The plan grew out of the combined efforts of the classmates involved. The good fortune came from Andy Patten's quick wit at a crucial point. A third windfall came unexpectedly. Andy's fiancé's parents gave us the shelter of their home as a way station for the raid and Andy's future father-in-law constructed a wooden crate for us in which to carry the bell to its destination in Atlantic City.
And this story is just one reason why the Class of '66 remains the Best Class ever at PMC.
Written by Bill Symolon, Andy Patten, Mike Stalkus and Tom Keller