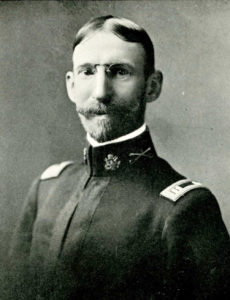 Conrad, a decorated career Army officer who served in the Mexican border wars, the Spanish-American War, the Chinese Relief Expedition, the Philippines Insurrection and World War I—and as a professor of Military Science and Tactics at PMC–has the distinction of not only graduating from PMC, but also from the U.S. Military Academy at West Point (Class of 1892).
Born in West Virginia, in 1868, he was the son of Col. Joseph Conrad, who commanded a Union brigade during the Atlanta campaign in the Civil War and "carried in his head a bullet intended for General Phil Sheridan…when he interposed his person for protection of his Chief," according a 1955 USMA alumni bulletin.
At Pennsylvania Military Academy, Conrad was one of the youngest and most brilliant members of his class. After graduation, he passed the entrance exam for USMA, where his experiences in Chester "enabled him to fit comfortably into the pattern of cadet life at West Point," the alumni bulletin, written after his death in 1955, reported. After graduation from the Academy, Conrad, an avid horseman, was assigned to the 3rd U.S. Cavalry Regiment. While stationed at Fort Sam Houston, Texas, he was commended for his conduct in the field during the Garza Revolution on the Mexican border.
During the Spanish-American War, the 3rd Cavalry was one of five cavalry units assigned to the crucial assault on San Juan Heights. Three troopers in the regiment were killed and 52 wounded in the action, including 2nd Lt. Conrad, who was shot in the ankle. Conrad was also one of five troopers in the battle awarded a Silver for distinguished gallantry.
After three tours of duty in the Philippines and participation in the Chinese Relief Expedition at the end of the Boxer Rebellion, Conrad, by then a captain, served as Professor of Military Science and Tactics at PMC from 1902-1905. He took a special interest in the Cavalry Squad and was regarded by students as "firm and strict, yet always just, kindly and an 'all-around good fellow.'" He returned to the college in 1924 to receive the Bachelor of Military Science degree, awarded to honor graduates who served in the military in time of war.
Conrad commanded the 38th Field Artillery during World War I and until it was demobilized in 1919. After that, he served with the Adjutant General's Department in Washington, D.C. When he retired in 1932, he and his wife, the former Jean Hoskins, settled in Washington.
After his death in 1955, his plebe-year roommate at West Point remembered him as "as fine and loveable a character as ever was."