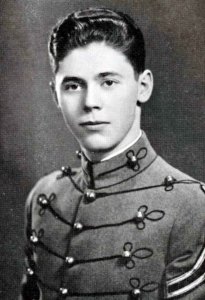 At the end of his sophomore year, "Joe" LoPrete transferred to PMC from Fordham University. A Brooklynite, his smile and infectious humor made him many friends. Although he was a star on the track team and the rifle range, his passion for lifting weights in his room and cars were well known. Six days after graduation, LoPrete joined the Marine Corps and was assigned to the 24th Marine Regiment.
Three U.S. marine divisions landed on the island of Iwo Jima in February 1945. The island was of strategic importance to the U.S. and the Japanese were determined to defend it. From an elaborate network of caves, dugouts, tunnels and underground installations the Japanese troops fought to the death.
LoPrete led an Assault and Demolition Platoon. After some initial success, a bunker held up the advance of the 2nd Battalion. As the platoon advanced, two men beside him were killed. He was resolute and led the platoon forward, eventually destroying the bunker. As the battalion advanced, it suffered countless casualties. To help fill a void, LoPrete was given command of a rifle platoon. Shortly thereafter, a pocket of Japanese held up the Battalion again. Their position was well fortified and they were inflicting severe casualties among the Marines. LoPrete realized that a quick advance was necessary to avoid further losses. He led his men forward against the Japanese and annihilated them.
LoPrete was awarded The Silver Star Medal by Brigadier General Franklin Hart, former commander of the 24th Marine Regiment, for his "Leadership, Courage and Devotion to Duty." It was later reported that one Marine said in response to a question about LoPrete's leadership that he would go "anywhere he leads me."
After the war, Major LoPrete served as an instructor at the Marine Training School in Quantico, VA. In 1967, he became the commander of the 3rd Marines. In late 1967, the 3rd Marines conducted Operation Lancaster, designed to protect the western flank of the 9th Marines. The area of operations included Camp Carroll, an important artillery position and the base of operations; the Rockpile, a strategic outcropping that gave the Marines a view of five major valleys; and, Ca Lu an outpost, located along Highway 9, that provided an early warning of enemy infiltration. The following year the 3d Marines were assigned to protect the Quang Tri base from enemy attack.
After serving in the Marine Corps for 31 years, Colonel LoPrete retired in 1973.