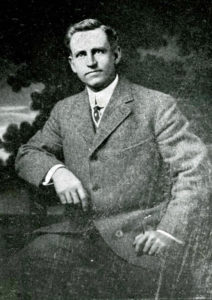 The parents of John W. Loveland were descendants of English gentry and were successful merchants in the Scranton, PA, area. After completing his early education, he entered Pennsylvania Military College, from which he was graduated in 1887 as a Civil Engineer. He continued his studies as a Post-Graduate at Yale University in 1888, and afterward attended Columbia Law School. He then studied in the offices of well-known New York patent lawyers. Loveland was admitted to the New York Bar in 1891 and the United States Supreme Court in 1892. He then opened the firm Loveland & Billings and earned an enviable reputation as a patent lawyer.
At the start of the Spanish-American War, President McKinley mustered in 3 regiments of volunteer cavalry (known as the Rough Riders). Shortly thereafter Loveland enlisted in Troop A, U.S. Volunteer Cavalry. In late July Troop A embarked for Puerto Rico and arrived at Port Ponce on August 6th. Due to the difficult accommodations and poor food many soldiers fell ill while waiting for orders to advance. Loveland was among those stricken ill. Upon his return from Puerto Rico, Loveland resumed his practice and in 1901, joined the New Jersey National Guard. He was promoted rapidly and by 1912 was the Adjutant of the 5th Infantry.
Loveland had always been a loyal and active member of the PMC Alumni Association. In 1887 he was elected President of the Eastern Alumni Association and served in that role continuously until 1907. During his tenure, Loveland oversaw the building of the Alumni Lodge, an on-campus home for alumni where they could hold their annual banquet and enjoy "song, story, reminiscence, good cheer, wit, humor, refreshment and rejuvenation." He also accomplished the unification of the Eastern and Western Divisions of the Alumni Association.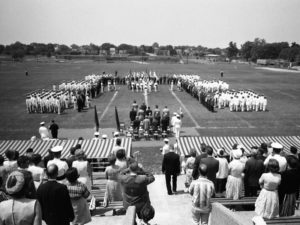 He was re-elected to that office during the years 1919-1924. The Hollow Square, a tradition of Commencement Ceremonies for the next half century, was organized by Loveland.
Loveland died in Washington, D.C. in 1944. He was buried in Forty Fort Cemetery in Pennsylvania.