It was a rare occasion when PMC encountered John "Jack" Geoghegan. As a cadet he left everyone with the impression of potential greatness.  He entered PMC in 1959 and was described as a young man of "impressive presence and likeable personality." He was selected as a Mother's Day Corporal and as a second classman he was appointed Brigade Sergeant Major. As a First Classman, he was selected to be the Brigade Commander. He was also an above-average student and graduated in the top third of his class.
Before reporting to the Army, Geoghegan entered the University of Pennsylvania where he earned a master's degree in International Relations. Upon completion of the Infantry Officers' Basic Course he was assigned to the 1st Cavalry (Air Mobile) Division's 1s Battalion, 7th Cavalry, under the command of Lt. Colonel Harold G. Moore.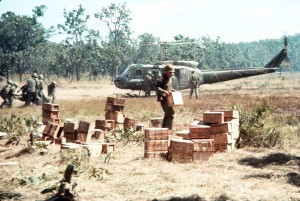 In November 1965, the news of the ferocious and costly Battle of La Drang Valley began to spread throughout the campus. Soon it was learned that Geoghegan had been killed while tending to a wounded soldier. PMC was shocked and in silent disbelief.
The tributes from those who knew him were endless. General William S. Biddle, Military Affairs Advisor at PMC, may have said it best: "he thus joined in memory Zadoc Aydelotte (Class of 1861) and other gallant sons of PMC who died on the field of battle."
For a video presentation about the life of "Jack" Geoghegan, please visit http://www.youtube.com/watch?v=2FRscyNjuvU.