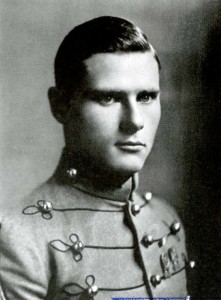 Jesse Roberts came to PMC from Upper Darby High and spent a term in the Pennsylvania Military Prep School. He then transitioned to PMC. He was gregarious, played football, and was part of the Cavalry Squad while at PMC. His keen sense of humor and love of a good practical jokes resulted in his intimate acquaintance with the "Delinquent Guard", later known as "Walking (penalty) Tours". After graduation, Roberts worked for the Roberts Filter Manufacturing Company, which his family had started in 1896. Jesse later returned to PMC as the Adjutant in 1941 and continued in that role until he was called to active duty in January 1942. After completing Tank Destroyer School, he was assigned to the 702nd Tank Destroyer Battalion (the "Seven O Deuce").
The "Seven O Duce" landed on Omaha Beach in mid-June and entered the line in early July. The battalion became part of the 2d Armored Division. In November, Roberts joined the "Seven O Duce" as Platoon Leader, second platoon of Company A.
In response to the German counter attack in the Ardennes, the VII Corps, under the command of Field Marshall Montgomery, was tasked with halting the advance. As the battle intensified, the 2d Armored Division was ordered to seize Buissonville, Belgium, where German tanks had been reported. Company A moved toward Buissonville and attacked the 2d Panzer Division and elements of the 116th Panzer Divisions as they were preparing to move north. After encountering and destroying several German tanks, Roberts positioned his troops on an exposed ridge, where they battled the enemy that were hidden in the woods. During this encounter, the Germans lost two Panther tanks, two 88 mm anti-tank guns, one Self-Propelled 75 mm gun, one armored car, one personnel carrier and eight trucks. In early January 1945, Roberts lead an attack against two German Panther tanks near La Wate, Belgium. During the firefight, a German round struck Roberts' gun crew, killing two men and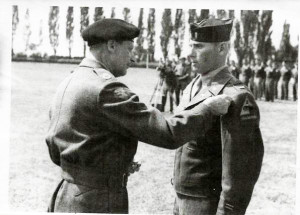 wounding Roberts. He extinguished the fire in the vehicle and evacuated three wounded men. Despite refusing medical assistance for burns to his hands and face, he returned to his unit. Later in January he was injured twice and eventually evacuated to a field hospital. It was determined that Roberts had suffered fractured ribs and remained hospitalized. For his actions, Field Marshall Montgomery awarded Roberts The British Military Cross Medal.
Like many families, the Roberts family connection to PMC continued. He was the President of the Alumni Association and later the PMC Parents Association. In addition, both sons of Roberts were members of the Corps of Cadets and graduated from PMC.