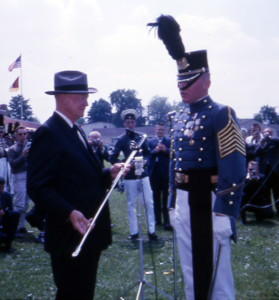 Throughout its history, PMC was host to many of the nation's leaders. A long line of men, including General John J. Pershing, General Douglas MacArthur, Cecil B. DeMille, John Philip Sousa and Bob Hope, reviewed the Corps of Cadets. Among these many notables were several Presidents of the United States, Warren G. Harding, Franklin D. Roosevelt, Herbert Hoover and Dwight D. Eisenhower.
Eisenhower's visit to PMC in the spring of 1963 is considered to be a landmark event. The former President was greeted upon his arrival by a PMC Honor Guard, President Moll, and the Commandant of Cadets, Major General William Biddle, who had served under Eisenhower in World War II. After lunch, Brigade Commander Jack Geoghegan '63 escorted Eisenhower to the parade field. After a 21-gun salute Eisenhower inspected the Corps of Cadets. Afterwards, Geoghegan presented Eisenhower with a sabre making Eisenhower the first Honorary First Captain in the 151-year history of PMC. The sabre is the traditional symbol that linked the Corps of Cadets of the Past and Present. After Geoghegan's presentation, Eisenhower made brief remarks to the crowd. "I assure you," said Eisenhower, a 1915 graduate of the U.S. Military Academy, "I did not attain the rank of First Captain at West Point."
After a short reception following the activities of the afternoon, Eisenhower drove off with an aide to Gettysburg. As a courtesy, each year, General Biddle informed Eisenhower of the achievements of the Cadet Brigade Commanders.
Note
: The sabre presented to Eisenhower can be found in the Eisenhower Library In Abilene, KS.