A tradition at colleges has been the awarding of honorary degrees to distinguish visitors. Colonel Hyatt launched an ambitious program of using this academic tradition to make PMC known nationally.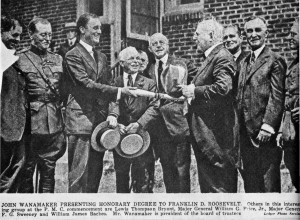 Honorary degrees were awarded to many well-known individuals, including Warren G. Harding (1920), John Philip Sousa (1920), General John J. Pershing (1921), General Douglas MacArthur (1928), Richard E. Byrd (1928), Cecil B. DeMille '98 (1931), J. Edgar Hoover (1936), David Sarnoff (1952), Walter H. Annenberg (1954) and many others. During the Commencement of 1920, Franklin D. Roosevelt was awarded Doctor of Laws. In accepting the degree he said in part:
"This.is a historic moment for me – the getting of this degree in an institution so essential1y American. The great need of our country today is broad Americanism and a leadership of vision. This institution stands for that sort of thing, and this is why its graduates have made enviable records in all lands."
For many, receiving an honorary degree from PMC was a tribute. In 1933, Colonel Hyatt was invited to visit President Roosevelt in the White House. The President told Hyatt that: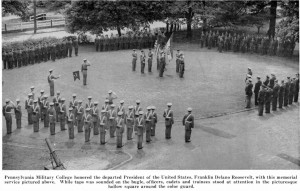 Since I received my degree (1920), I have taken as much interest in PM.C as if I were in reality a graduate. I have faithfully followed PM.C sports in the newspapers and have been particularly fascinated by your fine polo teams. PMC is truly expressive of the American spirit, and lays the foundation for the sort of Americanism needed to perpetuate the worthwhile institutions of our country.
In 1924, PMC conferred the degree of Bachelor of Military Science upon 64 alumni. Judge George T. Cann, '85 explained that the degree was designed to honor graduates of the College who had served in any branch of the military in time of actual warfare. For the several more years, this degree was awarded to 202 more alumni.
Year

Name

Position/Title

1874

Leonard H. Boole

Superintendent, John Roach & Co.

1875

George Patten

Professor of Engineering, P.M.C.

1877

Edward Brooks

Principal, Pennsylvania State Normal School

Rev. James E. McDougall

President, York Collegiate Institute

1878

Rev. John Wilson

Wesleyan Female College

1882

Henry D. Sellers

Pennsylvania National Guard

1883

John R. Sweeney

Music Director, P.M.C.

1889

Benjamin F. Morley '78

Professor of Chemistry, P.M.C.

1892

Edwin A. McHenry

Northern Pacific Railroad

1896

James F. Powers

1897

David McMurtrie Gregg

Union General and Auditor General of Pennsylvania

1901

Captain Beverly W. Dunn

Ordnance Department

Frank S. Krug, '84

1911

Henry Denny Thomason, '79

John W. Loveland, '87

William Wood Russell, '87

Edwin Alberti Howell, '90

Chester attorney

1912

Major General Leonard Wood

Chief of Staff, U.S.A.

William G. Randle

Superintendent, N.Y. Shipbuilding Co.

Rukard Hurd, '78

Secretary, Minnesota Tax Commission

Frank Sutton, '79

Geographer, U.S. Geological Survey

Joseph W. Shirley, '91

Chief Engineer, Topographical Survey Commission

Albert F. Huntt, '91

Architect

1913

Charles E. Hyatt

President, P.M.C.

James D. Hurd

Mining Engineer

1914

Major Evan M. Johnson, Jr.

United States Army

George Whitelock, '72

Baltimore Attorney

Brigadier General Carroll A. Devol, '78

Quartermaster Corps

Merritt H. Smith, '80

Engineer, N.Y.C. Board of Water Supply

Geroge H. Webb, '80

Engineer, Michigan Central Railroad

1916

General Hugh Scott

Chief of Staff, U.S. Army

James Campbell

Engineer, El Paso and South Western Railway

Thomas C. Hatton

Engineer, Sewerage Commission Wisconsin

Guion Moore Gest

Engineer, Expert in Distribution of Electrical Energy

1919

William C. Sproul

Governor of Pennsylvania

Josephus Daniels

Secretary of the Navy

Brigadier General William Rose (ret)

Corps of Engineers, U.S.A.

Samuel M. Felton

President, Chicago and Great Western Railway

1920

Warren G. Harding

Senator from Ohio

John Philip Sousa

Composer

Franklin D. Roosevelt

Assistant Secretary of the Navy

Lt. General William G. Price, Jr.

National Guard

William Backes

New Haven & Hartford Railway

Lewis T. Byrant, '81

N.J. Commission of Labor

William I. Schaffer

Attorney General, Pennsylvania

1921

General John J. Pershing

U.S. Army

Honorable Robert von Moschzisker

Chief Justice, Supreme Court of Pennsylvania

Honorable Alexander Simpson, Jr.

Justice, Supremem Court of Pennsylvania

William Burk

Washington Memorial, Valley Forge PA

Sylvanus Griswold Morley, '04

Associate, Carnegie Institution

1922

John Weeks

Secretary of War

George Wharton Pepper

Senator Pennsylvania

Emiliano Chamorro

Minister from Nicaragua

1923

Andrew W. Mellon

Secretary of the Treasury

Gifford Pincot

Governor of Pennsylvania

General Robert S. Bullard

Commander Second Corps

1924

Charles B. McMichael

President Judge, Philalplhia Common Pleas

William G. Clyde

V.P. Carnegie Steel Company

Smedley D. Butler

Brigadier General USMC

1925

General Tasker H. Bliss

in absentia

James J. Davis

Secretary of Labor

1926

Morris L. Clothier

Merchant

William C. L. Eglin

President, Franklin Institute

Harry Taylor

General, Chief of Engineers

1927

Curtis D. Wilbur

Secretary of Navy

Ralph Modjeski

Chief Engineer, Delaware River Bridge

Charles P. Summerall

Major General, Chief of Staff

1928

Major General Douglas MacArthur

U.S. Army

Richard E. Byrd

Commander, U.S. Navy

William L. Mellon

Financier

Daniel Willard

President, B&O Railroad

Charles Evans Hughes

Former Secretary of State

1929

John Stuchell Fisher

Governor of Pennsylvania

James E. Fechet

Major General, U.S. Army Air Corps

James Meschter Anders

Philadelphia Physician

1930

Nicholas Longworth

Speaker of the House

Patrick J. Hurley

Secretary of War

1931

Cecil B. DeMille

Playwright and Motion Picture Producer

Hanson E. Ely

Major General, Commander Second Corps Area

Honorable Owen J. Roberts

Associate Justice, U.S. Supreme Court

1932

Charles F. Adams

Secretary of Navy

William W. Atterbury

President, Pennsylvania Railroad

1933

George H. Dern

Secretary of War

David A. Reed

Senator from Pennsylvania

Leon Levy

President, WCAU

1934

Harold L. Ickes

Secretary of the Interior

General Peyton C. March

Former Chief of Staff, U.S. Army

John G. Pew

President, Sun Shipbuilding

1935

Cordell Hull

Secretary of State

George T. Cann

Attorney

Davel L. Powers

U.S. Congressman NJ

1936

J. Edgar Hoover

Attorney, Justice Department

Norman E. McClure

President, Ursinus College

Major General Leon B. Kromer

Chief of Cavalry, U.S. Army

1937

Dr. Chevalier Jackson

Physician and Surgeon

Major John W. Loveland, 1887

Attorney

Louis Allis

President, Allis Motors Company

1938

Homer Cummings

Attorney General of U.S.

Chester H. Rhodes

Judge, Superior Court PA

Edward V. Rickenbacker

President, Eastern Airlines

1939

Arthur H. James

Governor of Pennsylvania

Dr. James R. Angell

President Emeritus Yale University

Major General James G. Harboard

Chairman of the Board, RCA

Dr. Herbert J. Tily

President, Strawbridge & Clothier

1940

General George C. Marshall

Chief of Staff, U.S. Army

William L. Phelps

Professor Emeritus, Yale University

Edwin A. Howell

Attorney

1943

Robert P. Patterson

Under Secretary of War

Major General Harold George

Commander, AAF Air Transport

Major General Wilhelm Delp Styer

Chief of Staff, Army Service Forces

Major General Lorenzo D. Gasser

President, War Department Manpower

Colonel William M. Connor

Professor of Law, USMA

1945

Lt. General Barney M. Giles

Commander, Army Air Force Pacific

Vice Admiral Ben Moreell

Commander, Seabees

Charles Edson Adams

Chief Engineer, PA Railroad

1946

General Carl Spaatz

Commander, Strategic Air Forces

1947

James Henderson Duff

Governor of Pennsylvania

Joseph William Martin, Jr.

Speaker of the House

Vice Admiral Jeames L. Kauffman

Commander Fourth Naval Districk

1948

Kenneth Royall

Secretary of the Army

General Hoyt S. Vandenberg

Chief of Staff, U.S. Air Force

Dr. Luther H. Evans

Library of Congress

1949

Lt. General Walter Bedell Smith

Commander U.S. First Army

Lt. General Leonard T. Gerow

Commander U.S. Second Army

1950

Alfred E. Driscoll

Governor of New Jersey

Louis A. Johnson

Secretary of Defense

William Stern

Sportscaster, NBC

Dr. Edward L. Bortz

former president AMA

1951

General Mark Clark

Chief of the Army Field Forces

Senator Robert A. Taft

Ohio Senator

Leslie R. Groves

V-P, Remington Rand

1952

Lt. General Edward H. Brooks

Commander, Second Army

Major General Elbert L. Ford

Chief of Ordnance, U.S. Army

David Sarnoff

Chairman, RCA

1953

General John Hull

Vice Chief of Staff

Howard J. Pew

Sun Oil Company

Honorable Horace Stern

Chief Justice, U.S. Supreme Court

1954

Hugh M. Milton, II

Assistant Secretary of the Army

Walter H. Annenberg

Publisher, Philadelphia Inquirer

1955

Lt. General Hubert R. Harmon

Superintendent, U.S. Air Force Acdemy

Thomas S Gates, Jr.

investment banker

1956

Dr. Milton S. Eisenhower

President, Penn State

General Maxwell Taylor

Chief of Staff, U.S. Army

1957

Dr. Hollington K. Tong

Chinese Ambassador to U.S.

Admiral Louis E. Denfeld

Chief of Naval Operations

Dr. James Creese

President of Drexel

John J. McClure

former State Senator

1958

Robert W. Sarnoff

President NBC

Richard L. Burke

Sun Ship President

Wilfred D. Gillen

President of Bell Telephone

General John B. Medaris

Commander U.S. Army Ordnanc Missile Command

1959

Dr. Wernher von Braun

Space scientist

Lt. General Edwin A. Pollock

Commander, Fleet Marine Force (Atlantic)

Robert G. Dunlop

President, Sun Oil Company

Major General Edward MacMorland

President, P.M.C.

Francis S. Friel

President, American Society of Civil Engineers

1960

Vice Admiral Robert B. Pirie

Deputy Chief Naval Operations

W. Beverley Murphy

President, Campbell Soup

1961

General George H. Decker

Army Chief of Staff

J. Newton Pew

President, Delaware County National Bank

1962

Leonard P. Pool

Founder, Air Products and Chemicals

Lt. General Arthur G. Trudeau

Director of Army Research and Development

Frank Wolfgram

Dr. Lee A. DuBridge

President, California Institute of Technology

1963

Dr. Harian H. Hatcher

President, University of Michigan

Lt. General Albert Watson, II

commander Third U.S. Army

Virgil Kaufman

Aero Service Corp

5/31/1963 General Dwight D. Eisenmhower reviews the Corps

1964

Lt. General James H. Doolittle

aviation pioneer

1965

Bob Hope

Comedian

Dr. Detley Bronk

President, Rockefeller Insitute

1966

General Bernard A. Schriever

Commander, U.S. Air Force Systems Command

1967

Raymond P. Shafer

Governor of Pennsylvania

William K. Whiteford

Gulf Oil Corporation

1968

Lt. General Milton Baker

Superintendent, Valley Forge Military Academy

Jacob Blaustein

Co-founder American Oil Company

General Harold Johnson

Chief of Staff, U.S. Army

1969

Zenon C.R. Hansen

President, Mnack Trucks

Dr. Franklin H. Littell

President, Iowa Wesleyan College

1970

Ronald Wells

President, Crozer Theological Seminary

James Quinn

Headmasater, Episcopal Academy

James Cass

Editor, Saturday Review

Rev. Fred C. Reinert, S.J.

President, St. Louis University

1971

John H. Ware, 3rd

Trustee

Virginia Knauer

Presidential Assistant, Consumer Affairs

Archbishop Iakovos

Greek Orthodox Church