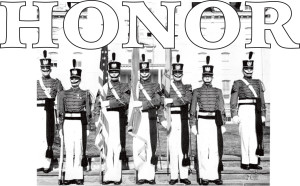 Theodore Hyatt modeled PMC after West Point. Colonel Charles Hyatt often called PMC the "West Point of the Keystone State." Wherever possible, the rules and regulations of West Point were adopted for use at PMC. This made the Regulation Book the single most important book and influence on a PMC Cadet. Stated in the Regulation Book for PMC Cadets was the requirement that the PMC Cadet "is always gentlemanly in his conduct, and is possessed of a sense of personal responsibility and self-confidence." Indeed, the related principles of "gentlemanly honor and moral obligation" were crucially important lessons to be embraced by all cadets throughout their cadet-years.
Colonel Frank K. Hyatt became President and Commandant of Cadets in 1930 and, for the next two decades, he faced numerous societal-changes as well as World War II. Col. Hyatt responded by making significant changes in the regulations that greatly altered the life of a Cadet. He firmly believed, however, that "gentlemanly conduct" was synonymous with the Cadet life-style and, frequently spoke of his belief that gentlemanly conduct (character) was an underlying principle through this quote that he repeated often and was also posted prominently in the Cadet Auditorium:
"When wealth is lost, nothing is lost;
When health is lost, something is lost;
When character is lost all is lost."
In 1947, Col. Hyatt announced a liberalization of cadet privileges. In a newspaper article in the Chester Times, he explained "We have felt that some liberalization of our campus rules was necessary during the past several months. The new system of rules has been devised to meet new conditions and ideas." Cadets were now allowed more time off campus and the boundaries where they were allowed to visit were expanded. Yet, Cadets were still not allowed to drink, smoke in public, and behave in an ungentlemanly fashion.
While Cadets welcomed these new liberalized privileges, they were still bound by their "honor" to obey the new rules. They were, furthermore, required to report any infractions or violations by other cadets. Violations of these privileges would be dealt with by a new organization, the Cadet Honor Court, which tried the violators and recommended punishment to Hyatt. The concept of "Gentlemanly Conduct and Honor" most certainly included character. The PMC Honor Code, however, may also be another example of PMC adopting the well known West Point canon "A Cadet will not lie, cheat, steal, or tolerate those who do" that was introduced by Douglas MacArthur in 1922.
The 1960's brought changes to the cultural fabric of the nation and to PMC. During this time, acts of campus vandalism and theft were reported and civilian students sought to separate themselves from the Cadets. The social changes were exacerbated in 1966 by the creation of PMC Colleges, which were comprised two schools (PMC and Penn Morton (a non-military school)) on one campus. In addition, PMC instituted a formal "Honor Code" and Honor Board to reinforce the long-standing rules of "gentlemanly conduct" defined in the rules and regulations, which had governed the Cadets since 1821. This Honor Code continued until the Corps of Cadets were disbanded in 1972.