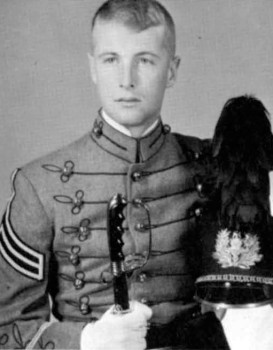 Evans Kayser entered PMC because of the recommendation of Norman Goldberg who, together, would be in the Class of 1965. In Kayser's view, it "was one of the best decisions" he ever made. As a member of HQ Company (the Band) and a trombone player, he participated in the Boardwalk Bowl in Atlantic City and the PMC 1st Place Award-Winning National Marching Band Competition at the New York World's Fair. His Army aviation career began when he participated in the ROTC Flight program where he learned to fly at the Wilmington, DE, airport. After graduation, he attended Rotary Wing Flight School (training for helicopter pilots) before deploying to Vietnam. In Vietnam, Kayser served as Pilot with Delta Troop, 3/5 Armored Cavalry. D Troop acted as a separate unit as a Quick Reaction Force, to work in tandem with infantry brigades on major assaults and other missions.
Late in the afternoon of June 19, 1967, two UH-1C helicopter gunships, piloted by 1st Lt. Kayser and Capt. Paul Osterlin, responded to an urgent call to support units of the 2nd Brigade, 9th Infantry Division that had been ambushed by the Viet Cong. As they approached the battle, radio communication with the Brigade was difficult due to the casualties, ground fire, and chaos. The two helicopters immediately engaged the enemy firing all of their weapons systems (two mini-guns and two 7 round 2.75 rocket pods plus two M-60 machine guns). After several firing passes, an emergency UHF radio call from the Brigade declared a tactical emergency and requested additional fire support from any weapons-capable aircraft. The combined response fr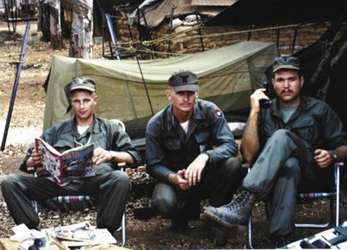 om helicopter gunships and Air Force tactical aircraft was remarkable. Kayser's helicopter only left the battle to refuel and rearm at the airstrip at Tan An (a few minutes away) and return to the firefight. As the battle continued, Kayser continued to effectively fire on the enemy as well as escorting medical evacuation helicopters in and out of the area. Despite sustaining damage to his aircraft, Kayser continued to support the ground troops until daybreak on June 20.
Capt Sam Slaughter, commander of the fire team, wrote: … this was one of the most complicated and difficult combat operations I have ever supported while under fire. Although it took 44 years and the help of Congressman Tim Scott of South Carolina, Evans Kayser was awarded the Silver Star Medal in 2011.
Watch Congressman Tim Scott Present Evans Kayser with the Silver Star click here