Frank B. Wood attended public school in Huntley, IL, and completed his studies at the Elgin Academy. He entered Pennsylvania Military College as a member of the Class of 1899. In the summer following the outbreak of the Spanish-American War, Wood was commissioned a First Lieutenant in Company B, 4th Wisconsin Infantry. Prior to reporting to training camp, the regiment was ordered to Oshkosh by Governor Scofield. Its mission was "preserving the peach" by quelling the strike of woodworkers. At the end of July, the Regiment reported to Camp Douglas to prepare for active duty. Despite Wood's claims that he charged up San Juan Hill with Teddy Roosevelt's Rough Riders, he and the 4th Regiment remained in the United States until the end of the War.
Wood returned to Elgin (IL) and opened an auto garage. He quickly became an auto enthusiast and a member of the Chicago Motor Club. At the time the Crown Point Road Race was the first in the Midwest. Due to financial troubles and unfavorable road conditions along the 232-mile route, the race was forced to change locations. Frank Wood and others formed the Elgin Automobile Club and invited the Chicago Motor Club to consider a 8.5-mile course they planned. Although there were many claims that Barney Oldfield, a famous auto racer participated, the AAA (American Automobile Association) had suspended Oldfield from racing due to his "outlaw" behavior. He did participate in later road races in Elgin.
One of the strangest claims made by Wood was his connection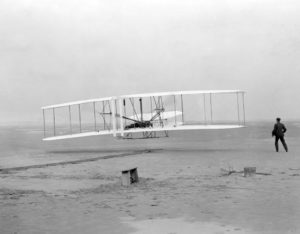 with the Wright Brothers first flight in 1903. In various interviews, including with PMC's Impact Magazine (Summer, 1969), he recounted meeting Barney Oldfield in Philadelphia and driving to Kitty Hawk where they witnessed the Wright Brothers make three trial flights on December 14. Wood stated, "it was Oldfield who made them possible, by instructing the Wrights how to lengthen their elevator lever so the plane would "get more air." Stephen Author, in his book The Wright Brothers in North Carolina, wrote that the Wright Brothers only attempted one flight on December 14. Furthermore, witnesses to the trials were recorded on paper and film and Frank Wood and Barney Oldfield were not among them.
In the 1920's, Wood moved to Panama City, FL where he was affectionately known as the "major." His love of fast cars remained and he would often be seen driving a racing car. He also learned how to sail, and became the first Commodore of the St. Andrew Bay Yacht Club. His first love, however, was aviation, Thanks to his daughter, Betty Wood McNabb who joined the Civil Air Patrol (CAP) in 1953 and flew more than 9,000 hours during her career, Wood accompanied her on several flights. In 1975 he passed away quietly.