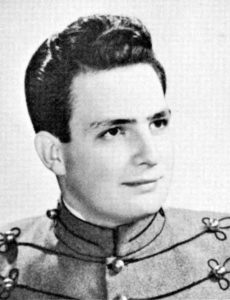 As a senior, "Midge" Melchoir was the Battalion Adjutant, business manager for the Sabre & Sash and a member of the Glee Club. At Commencement, he was commissioned a second lieutenant, began active duty immediately, and volunteered for paratrooper duty at Ft. Benning, GA. During his final jump, he broke his leg and was forced to transfer to the infantry. He was then flown to Korea as an officer replacement in the 1st Cavalry Division.
Melchoir arrived in Korea in September (1950) and was immediately assigned to lead a platoon in Company G. His new command was comprised of South Korean soldiers with only one Korean who could speak English. Melchoir made him his sergeant. As the Army was pushing toward the 38th parallel, the 5th Cavalry spear-headed the drive to Pyongyang. Melchoir and his platoon were constantly on the march. Although the North Koreans provided little resistance, there were numerous skirmishes.
After the capture of Pyongyang, the 5th Cavalry continued to push northward. While outside of Suncheon, the lead elements were attacked by a well dug in reinforced regiment. Melchoir's platoon was ordered to take a road block, located on a ridge. During the attack, all but six members of the platoon were casualties, including Melchoir who was wounded in both legs. Despite his wounds, he continued to direct his platoon using hand and arm signals, until he was evacuated. After the attack, he was flown to Japan where he began his recovery. Several weeks later, he was flown to the Valley Forge Hospital where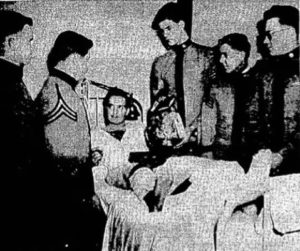 he received months of treatment. In March 1951, Melchoir was awarded the Silver Star (click here to read more) for his gallant actions and inspirational leadership. After spending 2 years in Veterans Hospitals, he was discharged.
Melchoir worked for the Hercules Powder Company, a small explosives company serving the mining industry, gun owners, and the military, for 6 years. He left Hercules to become the owner and operator of Midge's Bar in Kennett Square for 35 years. Melchoir died at the Neighborhood Hospice in West Chester, PA., at the age of 84.
CLICK HERE to read more