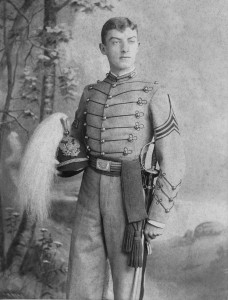 Born in New Jersey, Edwin Howell enrolled in the Class of 1890 after attending a year at Alfred University in New York. Howell was an exceptional student, earning top academic honors each year and was a Cadet Lieutenant and aide to Charles Hyatt in his senior year. As a Cadet, Howell was the editor of The Reveille, an early PMC newspaper. He graduated with a degree in Civil Engineering and joined the Pennsylvania & Northwestern Railroad. He then returned to Chester to "read law." In 1896, he was admitted to the Delaware County Bar and maintained law offices in Chester for the next 50 years. In 1927, he joined the PMC Board of Trustees and served as the solicitor and became secretary.
During the Great Depression of the 1930s, PMC faced serious financial challenges. The business model was flawed and despite being recognized as a non-profit by the federal government in 1936, state and local taxes were an enormous burden. Howell focused his energies on solving these problems. His plan included a reorganization of the business model, significant belt tightening along with fund raising, lowering faculty salaries and increasing enrollment.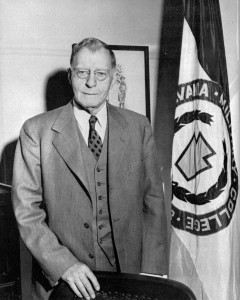 In 1952, Frank Hyatt, who had been ill for many years, retired. Edwin Howell was appointed interim President and head of the Search Committee. During his Presidency, Howell maintained his law practice in Chester and Vice-President Stanton von Grabill '35 oversaw the daily operation of the College. During this time, Howell began the preparations for the Middle States Evaluation, strengthened the Day Cadet program, made financial aid more evenly distributed, developed a more efficient budgeting process for the College and began a policy of competitive bidding on purchases.
After General Edward E. MacMorland was selected as the new President of PMC, Howell continued on the Board of Trustees until his death in 1954. Expansion of the Corps of Cadets was one of General MacMorland's priorities. To accomplish this goal, new facilities were required, including a new dormitory. MacMorland recommended that the College name the new dormitory, which was dedicated in 1958, after Edwin A. Howell:
Over the years, he was a tower of strength to the College. He served the College faithfully and well for many, many years as secretary and president of the Board and, for a brief period, as President of the College.
Among the many lasting contributions the Howell family made to PMC was the establishment of the Hyatt Endowed Scholarship and significant support for the Wolfgram Library.