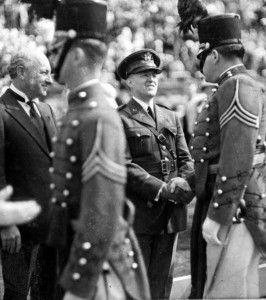 Shortly after his father's death in 1893, Cecil DeMille was enrolled at Pennsylvania Military College. According to DeMille's biographer, Charles Higham, while at PMC DeMille was a "determined, forceful boy," who "loved the endless dawn drills, the cold baths, the stern reminders of the dangers of falling from a high level of many virtues." In the two years he spent at PMC, DeMille was a successful student, ranking fourth in his class and was an athlete. Colonel Hyatt approved of his passion for the theatre and in 1898 DeMille left PMC.
Although he did not graduate from PMC, DeMille remained loyal to the school throughout his life. In 1931, he received an honorary degree Doctor of Letters. In 1951, this acknowledged founding father of the Hollywood film industry, created the DeMille "Freedom Trophy." It was to be given yearly to the Cadet who has "shown in an outstanding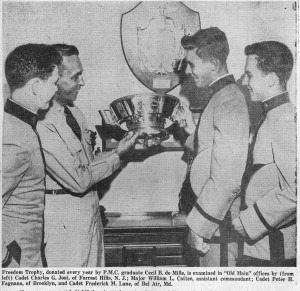 manner his personal conviction and devotion to the American ideal of individual freedom and the inalienable rights of man."
According to George Bjotvedt '51, who interviewed DeMille in California, "The award idea was born during a nostalgic discussion with Mr. DeMille about the time he was a cadet in gray. A marksmanship medal, awarded to DeMille while attending PMC, was one of his most cherished possessions." For the next 24 years, the DeMille "Freedom" Trophy was one of the most coveted awards presented at Commencement.
| | |
| --- | --- |
| Year | Cadet |
| 1951 | Glenn E. Patsch |
| 1952 | Henry C. Schmidt |
| 1952 | William M. Rideway |
| 1953 | Edward W. Blackburn |
| 1954 | Peter M. Marx |
| 1955 | David S. Johnson |
| 1956 | Louis A. Sasso |
| 1957 | Franklin A. Walsh |
| 1958 | Charles A. Clemens |
| 1959 | David O. Hinterleiter |
| 1960 | Sheldon Schwartz |
| 1961 | John A. Macintyre, Jr. |
| 1962 | Lawrence P. Gioielli |
| 1963 | Raymond L. Hastings |
| 1964 | Richard H. Kilmer |
| 1965 | David E. Allen |
| 1966 | George W. Graner |
| 1967 | Joe M. Charles |
| 1968 | Stephen A. Raho |
| 1969 | Robert A. Miller |
| 1970 | Joseph S. Lewis |
| 1971 | Edward M. Davidson |
| 1972 | William J. Troy |
| 1973 | Junior Treadway |
| 1974 | Edward T. Moore |
| 1975 | Frank D. Hnat |