Commencements at PMC, was often attended by thousands of parents, honored guests, alumni and citizens of Chester, and was often described as "Inspiring! Splendid! Magnificent! Stunning! and Overwhelming!"
The ceremonies changed little during the time of the Hyatt's and well beyond. Each year the activities and ceremonies were held during a 3-day period culminating on Commencement Day. This day began with honored guests being met by an honor guard and escorted to the reception room of Old Main. The group waited there for the conclusion of the annual meeting of the Board of Trustees. The trustees, honored guests, and faculty then began the academic procession, passing the corps of cadets standing at attention, from Old Main to the Armory. Following an invocation, the college president made his opening remarks. After that came the awarding of prizes and medals followed by the conferring of degrees. Presentation of honorary degrees was next. After Benediction, everyone become spectators to the exercises of the Corps. The Corps marched past the review stand, and then trustees and honored guests reviewed it. The ceremony ended with the president of the graduating class presenting the sword and the sash to the president of the incoming senior class.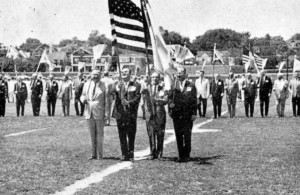 The day's activities ended with a very solemn moment. Members of the alumni association, in keeping with the tradition that early cadets drilled with broom sticks, lined up in preparation of the annual broom drill. After going through the "Manual of brooms," they marched and formed a hollow square. While in formation, the names of those alumni that died within the past year were formally reported to all those in attendance. As each name was called, the Corps of Cadets were given the order to "present arms." Taps was then sounded. John W. Loveland '87, former trustee and president of the Alumni Association, organized the Hollow Square ceremony around 1919.
This colorful and superb Commencement ceremony continued to be the end of the year's activities for the Corps of Cadets and left lasting memories.