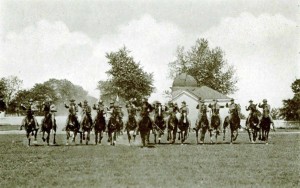 In the fall of 1888, a carload of cavalry horses arrived at PMC and Colonel Charles Hyatt announced cavalry drill as a new line of military training. Instruction was to be similar to that at West Point and quickly became popular with cadets. In 1894, PMC's Cavalry Squad performed at the Philadelphia Horse Show and the local newspapers proclaimed "It was probably the finest exhibition of drilling on horseback ever seen in Philadelphia." For many years the Cavalry Squad continued to make public appearances
Perhaps the most challenging and entertaining activity of the Cavalry Squad was the yearly competition for the John G. Bergfels Cavalry Medal. This competition signaled the start of commencement activities and was often witnessed by hundreds of spectators. The events typically included "a walk and trot, canter, right pass and left pass, back jumping, changing leads, mount and dismount, changing mounts, vaulting, vaulting with face to the rear" and performance over jumps and lasted approximately three hours.  The judges were often visiting military dignitaries or well-known horsemen.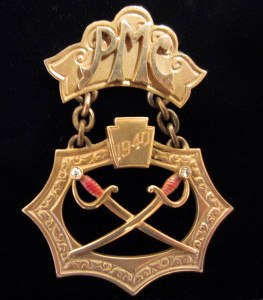 The Bergfels Cavalry Medal was beautifully designed and made of 14 carat gold with two small diamonds on the saber grips. It was a donation from Julius Bergfels, a renowned jeweler from Newark, N.J., in 1897 to honor the memory of his younger brother John G. Bergfels. He served as first sergeant of the Van Reypen's Unattached Company, First New Jersey Cavalry. During his career as a cavalryman, he took part in as many as eighty skirmishes and engagements, including the Battle of Second Bull Run, Antietam, Fredericksburg and Gettysburg. During the Battle of the Wilderness, Sergeant Bergfels was mortally wounded at Todd's Tavern in 1864.