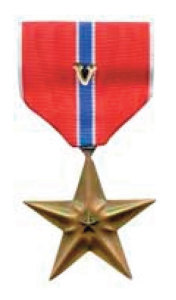 Thomas R. Childers, Jr.
Class of 1969
Third Battalion, Fourth Marines, First Marine Division, FMF Pacific
Bronze Star w/Valor for valorous actions and meritorious service in combat as a platoon leader and rifle company commander while conducting numerous night ambushes and other direct engagements with the enemy. In each of these actions, Lt. Childers exhibited courage under fire, composure, resourcefulness and disregard for his own safety to protect the lives of his Marines and accomplish the mission. Frequently, he retrieved wounded Marines from hot kill zones, pursued retreating enemy personnel, and motivated leadership by moving under fire to various positions to solidified and coordinate action essential to mission's accomplishment.