What drew Carl "Jimmie" Schaubel to PMC in the fall of 1926 was his interest in horses. His classmates soon recognized that his "witticisms and easy-going manner" made his personality a strong attribute. Schaubel was a hard worker in the classroom and played shortstop on the baseball team. At the same time he learned to ride and developed into a fine polo player under the tutelage of Frank Hyatt. Schaubel commented that being a member of the undefeated polo team in 1930 was a highlight of his time as a Cadet. As a polo coach, he was considered to be one of the best in the country.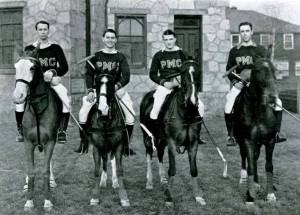 In 1930 Schaubel was awarded a Bachelor of Economics degree and was asked to remain at PMC as the coach of the polo team and assistant professor of military science and tactics. After spending 10 years in the army reserves, Mr. Schaubel volunteered for active duty in 1940. His first assignment was at PMC in large part due to Frank Hyatt. After an similar assignment at the College of William & Mary, Schaubel was ordered to report to the commanding general of the European Headquarters in London. After the invasion of Normandy, Schaubel traveled through Northern France and Germany as part of an advance team for General Eisenhower's Staff. After the war, he was sent on a special mission, which included travels throughout the Middle East and all the countries behind the Iron Curtain including Russia. He was then transferred to the Pentagon.
After leaving the Army, Schaubel worked at the Dunlap Printing Company in production and then as sales manager. In 1956 he became president of the company. In 1964, he returned to PMC as a staff vice-president and retired in the 1973.