No aspect of PMC stood out more than a cadet in uniform. The uniformed cadet became a symbol of the school and clearly showed he was a member of an elite group. The uniform was also a disciplining force. The way he conducted himself in public while in uniform became the basis for how the public sees the school.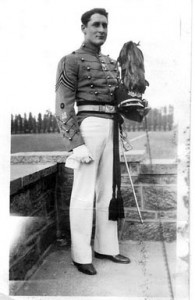 As early as 1862 the cadet gray full dress uniform became standard. The design was identical to those worn by the cadets at West Point, except for the buttons on the coats and the shields on the caps, which were designed by the school. Each uniform was a hand tailored garment made to measure using the finest quality cloth supplied by the Charlottesville Woolen Mills. This uniform changed little between 1862 and 1972.
To ensure uniformity in appearance and quality, all cadets were required to purchase their uniforms from M.C. Thackray of Philadelphia. Beginning in 1873, all uniforms were purchased from John Wanamaker in Philadelphia. After 1890, however, uniforms were made and supplied on campus through the Quartermaster Store and finally, from the William Bell Uniform Company of Chester, Pennsylvania.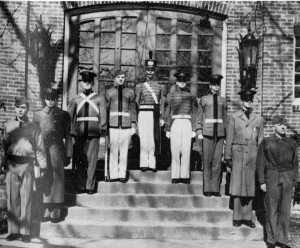 Each cadet was also expected to have a a "cadet gray" dress uniform of high collared, tailed coat with both gray and white trousers. The daily dress for classes and on campus consisted of a collared, long sleeved, gray cotton dress shirt, black tie, and the gray woolen trousers."Cadets wore their dress gray uniform trousers and a gray flannel shirt, later replaced by lighter weight material. In 1963, a lightweight white summer uniform was issued.