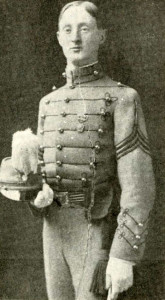 Burt Mustin, the son of Sadie and William Mustin of Pittsburgh, Pennsylvania, matriculated at Pennsylvania Military College in 1899 and, by his senior year, he was the Cadet Lieutenant of "D" Company, the catcher as well as the first baseman of the P.M.C. baseball team, the goalie of the PMC hockey team, and a talented vocalist with the PMC chorale-group. When the Merit List (Honor Roll) was announced in 1903, his 88.7 academic average placed him sixth in his class. He later recalled that he was a quick learner, especially with a staff-officer on-duty in each corridor who could "…pop in…." to his room at any moment to ensure that his nose was buried in his books.
His classmate, Charles Spinney, kept dozens of photographs of young ladies that he knew in his hometown of Memphis, Tennessee, on the wall of his room and one day, while viewing 'Spinney's Gallery,' Mustin remarked, "There's the prettiest girl in the room." Mustin later traveled to Memphis where he met and married Robina Woods, to whom he referred as his darling 'Bine,' in 1915.
His career at his father's brokerage firm ended before it began due to an economic collapse and, for the next 25 years, Mustin was a car salesman. With the advent of World War II, automobile-production was halted in the United States. For a time he was a salesman for hearing aids. At age 60, Mustin and his wife moved to the warmer-climate of Tucson, Arizona, because of her failing-health. There he resumed his passion for acting by performing in an assortment of roles at local theaters.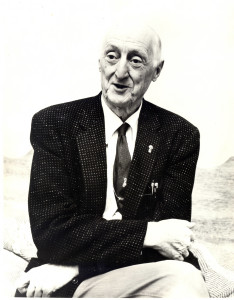 In 1951, Mustin was performing in a cameo role as "Willie," the janitor, in Detective Story starring Kirk Douglas at the Sombrero Theater in Phoenix, Arizona. One night, William Wyler, a noted director, attended the play and was very impressed with Mustin's performance as "Willie." Wyler cast Mustin as "Willie" in Detective Story, together with fellow actor Kirk Douglas in the lead-role. Throughout his theatrical career, which spanned more than four decades, Mustin became a well known character actor who was noted for his dependability and versatility. Mustin appeared in more than 150 films and more than 400 television-productions, including roles as "Jud Crowley," the barber shop patron, on The Andy Griffith Show, as "Gus," the fireman, on Leave It To Beaver and as "The World's Oldest Cat-Burglar" on Dragnet. He was a semi-frequent guest-star on the Dragnet television-series, both in the 1950's and 1960's, because he was a personal-friend of Jack Webb, the creator, director and producer of Dragnet. Mustin honored his alma mater by reprising his original (1951) film role as "Willie," the janitor, in the theatre pmc student production of Detective Story in February 1970. Mustin's campus visit was arranged by Cadet John E. N. Blair '70, theatre pmc General Manager, who presented Mustin with a theatre pmc plaque and gray cadet-sweater following thunderous applause at the conclusion of the Opening Night performance of Detective Story, which was attended by numerous local dignitaries, including President and Mrs. Clarence R. Moll.
Throughout his entire life, Burt Mustin '03 never swerved from his love of and loyalty to the PMC Corps of Cadets. Possibly, that 'view' was best expressed by General of the Army Douglas MacArthur who, during his final visit to his alma mater, the United States Military Academy, told the West Point Corps of Cadets, "As I cross the 'River,' my final-thoughts will be of The Corps, The Corps and The Corps. I bid you farewell!" It could be surmised that Burt Mustin had similar thoughts when he died on 28 January 1977.