Anyone spending time on the campus of PMC cannot help but hear the sounds of the bells that originates from the carillon in the Dome atop Old Main. What they may not know is that the original twenty-five-bell Coronation Carillon was installed in February 1964 in memory of Albert "Albie" Filoreto, '63. At the dedication, a plaque was presented that says:
Albie Filoreto Carillon placed in the dome of Old Main by friends, faculty and students of Pennsylvania Military College, March, 1964.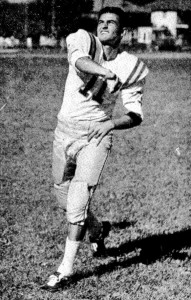 To those who knew him, Albie was one of the most popular and best liked students on campus. Albie was a star football player and outstanding sprinter. In his senior year, he attended football camp but was unable to complete the required one-mile run. He was constantly fatigued and weak and missed many classes during the year. Eventually Albie learned that he had a disease called aplastic anemia, causing the body to stop producing new blood cells. Despite the seriousness of his illness, Albie maintained an optimistic attitude and graduated in the spring. Tragically he died in August.
The Carillon was purchased from Schulman Carillons and funded by students, faculty, staff, alumni, friends of PMC and local community organizations. Originally the carillon was to perform an eight-note phrase from "Hail to PMC" which would signal the beginning of class periods from 8:55 a.m. to 3:55 p.m. When the Corps of Cadets assembled for its evening mess, the carillon performed the Alma Mater. After being discontinued for a ten-year period, the carillon was restored and resumed ringing in 1978. In 2010, the chimes began to play a new song, "Hear the Roar!"